It's inevitable, 1 in 4 newly qualified drivers is statistically going to have a crash in the first 2 years of motoring. Sorry to break it to you but this is the harsh reality of modern day driving and the facts are quite clear its young inexperienced drivers and usually involves speed. Check out the statistics on the Brake Charity page here.
In this blog edition we aren't going to lecture you on figures from the department of national statistics but instead help provide advice on what to do if you've been involved in a crash or accident.
There are a few key details that you'll need to take when you've been involved in an incident. Firstly get all the names, address and phone numbers of those involved plus any key witnesses.
Take a note of the date, time and location of the incident. Be as specific as possible and back this up with photos. Don't forget to exchange insurance details and write a detailed report of your side of events.
Keep your cool and try not to panic, ensure the area is safe, not causing an obstruction and your not putting yourself or anyone else in danger. Ince you have your evidence and required information clear the scene without causing further hazards.
It's handy to keep an accident check sheet to hand inside your car for situations such as these, take a look at this one below and feel free to take a copy: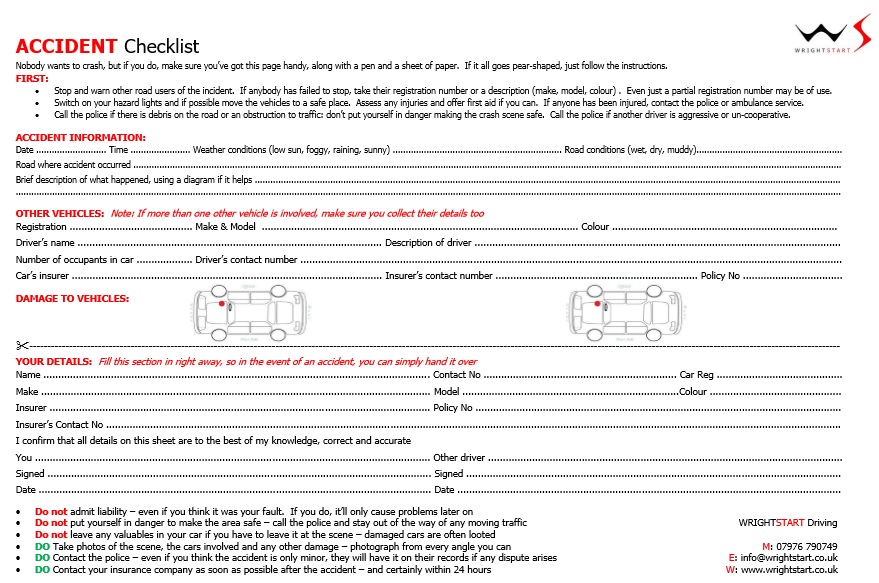 We hope this useful information helps reassure you a little but until next time, stay safe out there.