Aims
The aim of this page is to give guidance to our customers on conducting driving lessons during the Government Covid-19 restrictions, the points covered are:
Delivering driving lessons at this time
PPE overview
Before the session
During the session
After the session
Theory Test
Practical Test Day

Delivering driving lessons at this time
In-vehicle activities mean that maintaining current social distancing measures are difficult to achieve. The measures outlined here are based on the latest guidelines produced by the HSE and NASP for in-vehicle work activities, these are subject to change.
You can only attend the session provided ALL of the following conditions apply:
You, or anyone in your household, has not been specifically told to isolate or is in a high risk group
You, or anyone in your household, is not showing any symptoms of coronavirus such as a cough or high temperature
You have not been in contact with anyone showing symptoms
You, or anyone you have been in contact with, have not traveled from a high risk region
If you have symptoms you will need to isolate, your instructor will inform you of how long based on current guidance. You will need to provide a negative test result in order to continue lessons before the isolation period has ended
For up to date guidance click here

Personal Protective Equipment
You WILL need to wear a face mask or covering during the lesson, you WILL need to provide a fresh and clean mask or covering on each lesson
You are welcome to wear disposable gloves but you will need to provide these
Your instructor will tell you that key surfaces inside and outside the car have been cleaned, a diagram has been included below, these include:

Internal and external door handles
Windows/mirror controls
Seat/head restraints
Seat-belt and its connection
Gear lever
Steering wheel
Indicator and wiper stalks
Car keys
Training resources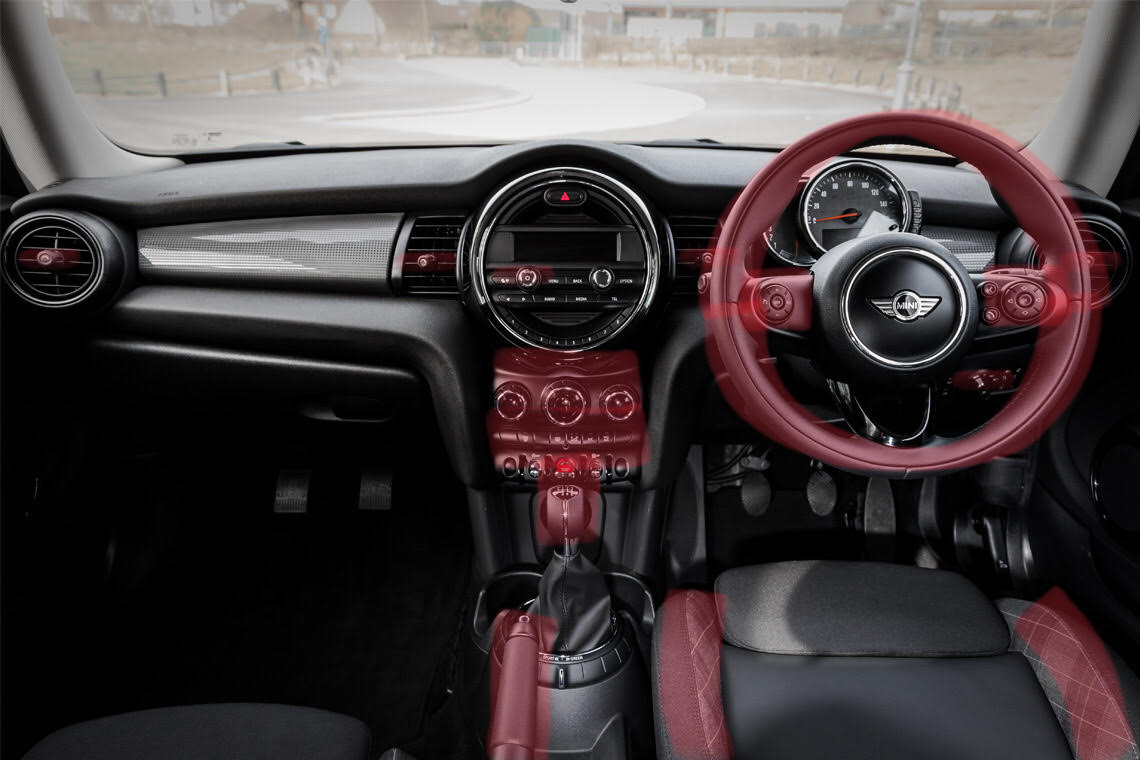 What you should do before your driving lesson
If you're given the all-clear for the lesson to go ahead, your instructor will advise you to do the following:
Wear clothing that covers as much of your body as possible, including your arms and legs. You should also wrap up warm during cold spells as the windows will most likely be open during the lesson to improve ventilation
Wash your hands for at least 20 seconds immediately before leaving your home for your lesson, bring hand sanitiser as well
Wear disposable gloves if you wish to
Meet the instructor by the car itself
Expect the instructor to chat with you before you're allowed to get in the car; this is an opportunity for them to check that you are not displaying any symptoms, and to also check you have washed your hands (and have brought hand sanitiser with you)
Expect the instructor to have this chat with you at the beginning of each and every lesson. If the instructor is not 100% happy, they will cancel your lesson on the spot. Please don't take it personally – they are just trying to keep everyone safe
If you are a new client, you will be asked to hold up your provisional driving licence so the instructor can check it electronically there and then

What you should do during your driving lesson
To reduce risk during the lesson, the instructor will:
Hold up any visual aids or training resources, instead of passing them between the two of you
Ensure neither of you face each other directly when talking about scenarios; remaining face forward is the safest option when a 2-metre gap between two people cannot be maintained
Make sure no devices are shared such as pens with the instructor giving any brief notes digitally via text or email where possible
Wipe down the car's controls if and when the instructor has completed giving you a demonstration drive

What you should do after your driving lesson
As you depart, remember not to shake hands
Take any rubbish with you
Once you're back home, do wash your hands as soon as possible
You may also wish to wash the clothes you wore during your lesson immediately
Theory Test
Please visit the .gov website here for the latest and most up-to-date information about what to expect on the day of your theory test.

Practical Test Day:
We will allow time on arrival at the test centre to wipe down the examiners side of the vehicle, including seat and head restraint, seat-belt and its connection, the dashboard area and passenger door contact points
PLEASE NOTE: If your instructor has been informed to isolate they will not be able to take you to test. They will endeavor to find an alternative instructor to take you but if that isn't possible you won't be able to sit the test. The DVSA will allow you to reschedule your test for this reason without charge.
If you need to cancel due to COVID we will need to see proof of a positive rapid lateral flow or PCR test or a copy of the test and trace message regarding isolation.

That all sounds pretty strict, right?
Yes, but remember – these restrictions are there to keep you and the instructor safe from harm, and they won't be in place forever
If you have any further questions please contact your instructor directly. We wish you all the best with your driving lessons…